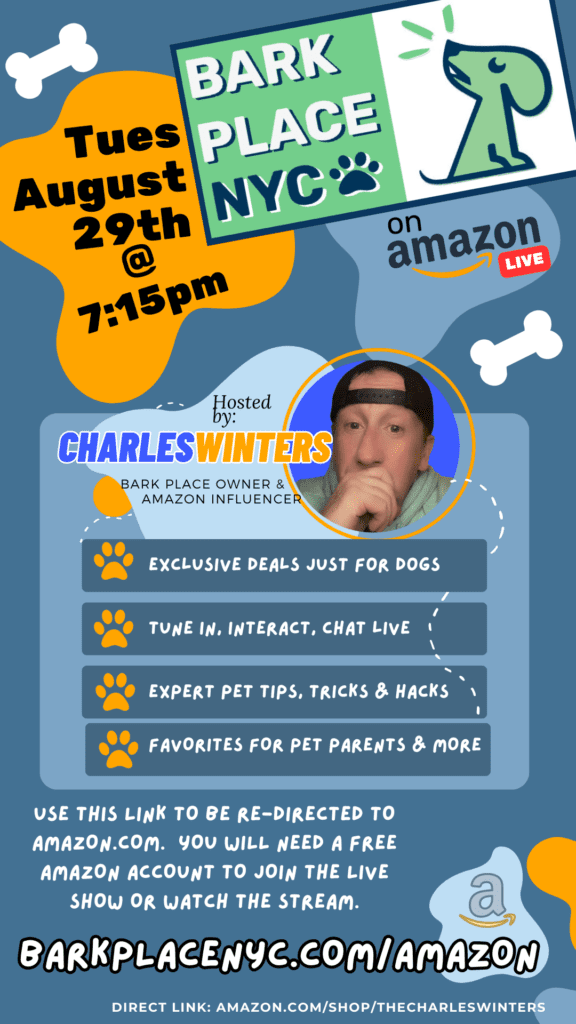 This Tuesday, Bark Place NYC and all of our clients will be featured on Amazon Live! Tune in at 7:15pm for exclusive deals, tips, hacks and chat with fellow pet parents from Bark Place NYC and beyond.
This special event on Amazon Live will be hosted by Bark Place NYC owner, Charles Winters, who is also an Amazon Influencer. Charles will be joined by some other industry professional and familiar faces from Bark Place NYC who will answer questions and provide insider knowledge on a variety topics ranging from what maintenance you should be doing on your dog's coat in-between grooms to what are the favorite items among pet parents this fall.
You will need an amazon account to participate in the show, but you can sign up for one for free if you don't already have one. Amazon is offering Bark Place NYC clients a free trial of Amazon Prime which unlocks tons of features including free shipping, movies, music and more. Just click here to sign up for your account and try Prime for free (if you already have an account but would still like to try Prime for free, just follow the link and login.)
To tune in to Bark Place NYC on Amazon Live this Tuesday, August 29, 2023 at 7:15pm you can come back just before the show is scheduled to begin and the watch button below or you can click it now, and hit follow to get a notification with a link as the show begins.. Make sure your notifications for the Amazon app are on to get the alerts.
We hope you'll join us!