better together
About Us
Learn more about Bark Place NYC. Here you'll find out history, contact information and more!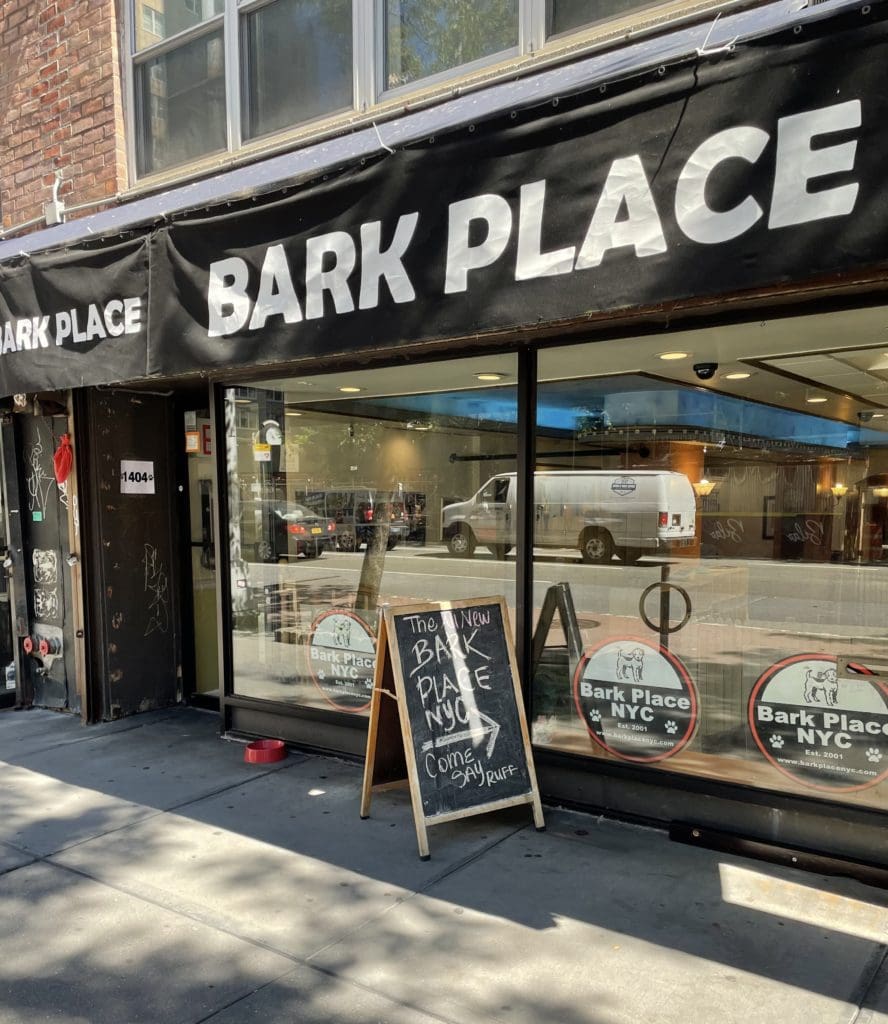 Bark Place NYC first opened our doors in 2001. Over the last 20+ years our look, location and even ownership might have changed; but one important thing remains the same from then until now. Bark Place NYC is committed to providing quality pet services at a competitive rate where pet and pet owners on Manhattan's Upper East Side feel safe and comfortable!
Bark Place NYC was founded by Jane E. Moss and Mary Ellen Thomas in 2001 with the opening of our first store on east 72nd Street (between 1st and York Avenue). The original Bark Place NYC was a beautiful boutique that carried only the finest pet accessories, attire and treats. Jane's goal wanted Bark Place NYC to have a neighborhood feel with high quality products at competitive prices. Pet owners would come from all over the tri-state area to check out the unique finds such as canine couture, custom-made-to-order pet carriers, home-baked blueberry crisps and more. In its early years, Bark Place NYC gained notoriety as the go-to boutique for the hottest items for your pet. It was mentioned in several books and television shows and even hosted a casting call for the TV show, It's Me or The Dog.
In 2011, Bark Place expanded to include grooming service and quickly grew out of that space. In July 2012, Bark Place opened its second location at 450 East 81st Street and that fall moved the flagship from 72nd street to 1371 First Avenue. For the next 10 years, Bark Place grew to become one of the most trusted names in pet grooming on the Upper East Side, in the city and across the country. Since its launch in 2001, the Bark Place brand has been seen in partnerships with vet offices, doggie daycares and even at New York City's infamous street fairs. Bark Place NYC even operated a pop-up on Lexington Avenue providing grooming services to that neighborhood as well.
After having served as President of Bark Place Inc for nearly 20 years, Jane E. Moss stepped down as President and sold the company to long-time Bark Place Inc. employee Charles Winters. Winters, who had worked for Bark Place for 10 years and served as Manager, District Manager, Marketing Director and Vice-President of Development; took over ownership and the role of President at Bark Place Inc. on January 1, 2020.
On August 29, 2022, Bark Place combined both of their smaller locations and moved into a new, modern, state-of-the art facility at 1404 1st Avenue. Bark Place also expanded their services to now offer dog & cat grooming, dog daycare, dog training, private events, meet-ups and more!
Bark Place NYC
1404 1st Avenue
New York, NY 10021
-1st Avenue between 74th & 75th Streets
-conveniently located a few blocks away from the Q (72nd street stop) and the 6 (79th street stop) trains; and along the M101 bus route
-parking meters are located directly in front of the entrance
Get Weekly Pet Care Tips, Articles, And Events Reminders Straight Into Your Inbox